Since 2000 I (Paul) have written & published my own A5 (small) book on what can be seen in the night sky each month for Great Britain and Ireland. It is written in a plain, understandable style so that if you can understand the following 'look up on such a date at such a time and you will see' then you will be able to find, see and enjoy the events described in the book.
Click Image to purchase. 

Note - NightScenes is not for sale outside of the UK & Ireland - Sorry!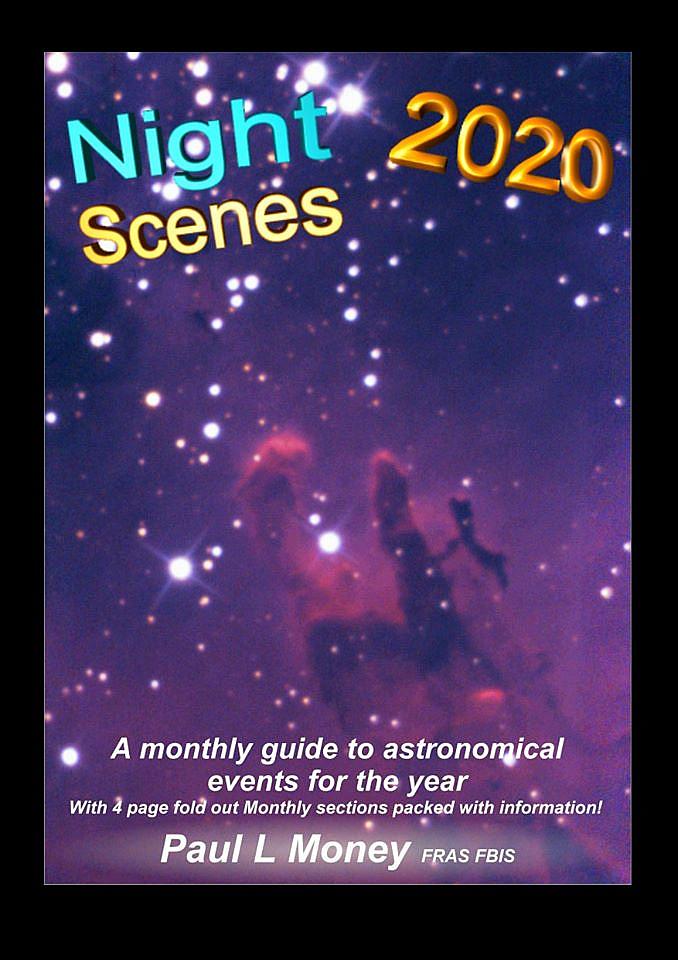 Previous editions have had 48 pages including laminated covers and a spine. Since 2016 this was expanded to 72 pages plus covers with the monthly pages doubled from 2 to 4 with each month done as a 4-page fold out, 3 pages devoted to solar system events and a page to the deeper sky! (Only in the printed edition). The font size was also increased slightly to aid readability and with the expanded format more charts are included. For the 2020 edition the dedicated occultation pages have been dropped but the sky notes for December of the previous year are now included for those who always buy NightScenes early. Therefore the monthly notes now run from December to December. Also new is a page dedicated to the Moon.
Each month has an all-sky chart set for 10 pm local time (11 pm during BST) with information on what planets are visible, any special events such as Meteor showers or Eclipses. NightScenes also occasionally has photographs that Paul has taken of the night sky as well as extra diagrams for special events to look out for such as conjunctions of the Moon & planets which are of particular interest. Some charts are prepared using the excellent 'Guide v9' by Project Pluto and most with Stellarium software and their permission is gratefully acknowledged. The booklet is in full colour and is professionally printed by Cupit Print based in Horncastle.  
All this for just £6